World Population Day Essay , Article , Speech , Quotes , Slogans Wallpapers , Images
World Population Day Essay
World Population Day Essay : World population is increasing day by day. Population problems give rise to many other problems like shelter, food etc. Human beings need to recognize their rights and therefore there is need to raise awareness about population. To create awareness about population and its needs, World population day is observed on every 11th of July.
Why World Population Day Is Celebrated ?
The decision to celebrate World population day was made in 1989 when World population was reached to five billion. This decision was made by United Nations Development Program. They warned about the effects of increasing population. Over population results in many problems like food shortage, poverty, water shortage, shelter problems , unemployment problem etc. The aim of celebrating world population day is to resolve the issue of increasing population of the world. Different programs are organized to create awareness to control this growing population.
The Governing Council of the United Nations Development Program decided to observe World population day in 1989. The purpose behind this decision was to focus on the importance of population issues. Human population is facing problems in order to get safe shelter, safe food and water. If this world has controllable population then these all problems can be resolved. Now, this World has about 7 billion population and it is an alarming situations. Increased population means that there are a huge number of those old citizens who cannot afford to manage their own needs. But it does not mean that we start ignoring those old citizens/ senior citizens.
World population day is celebrated to make decisions to control world's increasing population. There is a need to protect the rights of living human beings. Controlling population does not mean to kill someone, but it means to control the issues which are created by overpopulation problem.
Read Also : Overpopulation  Problem Essay , Article , Paragraph , Prevention Steps 
The message of UN secretary General on Population day
On this World Populations Day, I call on all with influence to prioritize youth in development plans, strengthen partnerships with youth-led organizations, and involve young people in all decisions that affect them. By empowering today's youth, we will lay the groundwork for a more sustainable future for generations to come"
Read Also : Teenage Pregnancy Problem Essay,Article,Speech
Secretary-General Ban Ki-moon' Speech
On this World population day, let's promise to work for your country, because we all are concerned about the needs and rights of human being and we should work for the provision of basic life facilities. We are responsible to work for mankind because we are way better than many others.
---
World Population Day 2017
World Population Day 2017 would be celebrated all over the world by the people on 11th of July at Tuesday.
---
World Population Day Themes
World population day 2017 Theme : " Coming Soon "
The theme of 2016 was"Investing in Teenage Girls".
The theme of 2015 was"Vulnerable Populations in Emergencies".
The theme of 2014 was "A time to reflect on population trends and related issues" and "Investing in Young People".
The theme of 2013 was "Focus is on Adolescent Pregnancy".
The theme of 2012 was "Universal Access to Reproductive Health Services".
The theme of 2011 was "7 Billion Actions".
The theme of 2010 was "Be Counted: Say What You Need".
The theme of 2009 was "Fight Poverty: Educate Girls".
The theme of 2008 was "Plan Your Family, Plan Your Future".
The theme of 2007 was "Men at Work".
The theme of 2006 was "Being Young is Tough".
The theme of 2005 was "Equality Empowers".
The theme of 2004 was "ICPD at 10".
The theme of 2003 was "1,000,000,000 adolescents".
The theme of 2002 was "Poverty, Population and Development".
The theme of 2001 was "Population, Environment and Development".
The theme of 2000 was "Saving Women's Lives".
The theme of 1999 was "Start the Count-up to the Day of Six Billion".
The theme of 1998 was "Approaching the Six Billion".
The theme of 1997 was "Adolescent Reproductive Health Care".
The theme of 1996 was "Reproductive Health and AIDS".
World Population Day Quotes
---
"In order to stabilize world population, we must eliminate 350,000 per day".
– Jacques Yves Cousteau
---
"Close to a billion people – one-eighth of the world's population – still live in hunger. Each year 2 million children die through malnutrition. This is happening at a time when doctors in Britain are warning of the spread of obesity. We are eating too much while others starve".
– Jonathan Sacks
---
"You cannot control your own population by force, but it can be distracted by consumption".
– Noam Chomsky
---
"The power of population is indefinitely greater than the power in the earth to produce subsistence for man".
– Thomas Malthus
---
"A finite world can support only a finite population; therefore, population growth must eventually equal zero".
– Garrett Hardin
---
World Population Day Sayings
---
"Every State has the primary duty to protect its own population from grave and sustained violations of human rights, as well as from the consequences of humanitarian crises, whether natural or man-made".
– Pope Benedict XVI
---
"Population, when unchecked, increases in a geometrical ratio".
– Thomas Malthus
---
"Population, when unchecked, goes on doubling itself every 25 years or increases in a geometrical ratio".
– Thomas Malthus
---
"Almost half of the population of the world lives in rural regions and mostly in a state of poverty. Such inequalities in human development have been one of the primary reasons for unrest and, in some parts of the world, even violence".
– A. P. J. Abdul Kalam
---
World Population Day Slogans
---
"The point of population stabilization is to reduce or minimize misery".
– Roger Bengston
---
"If we don't halt population growth with justice and compassion, it will be done for us by nature, brutally and without pity- and will leave a ravaged world".
– Nobel Laureate Dr. Henry W. Kendall
---
"When the family is small, whatever little they have they are able to share. There is peace".
– Philip Njuguna
---
"Once it was necessary that the people should multiply and be fruitful if the race was to survive. But now to preserve the race it is necessary that people hold back the power of propagation".
– Helen Keller
---
World Population Day Wallpapers
---
---
World Population Day Images
---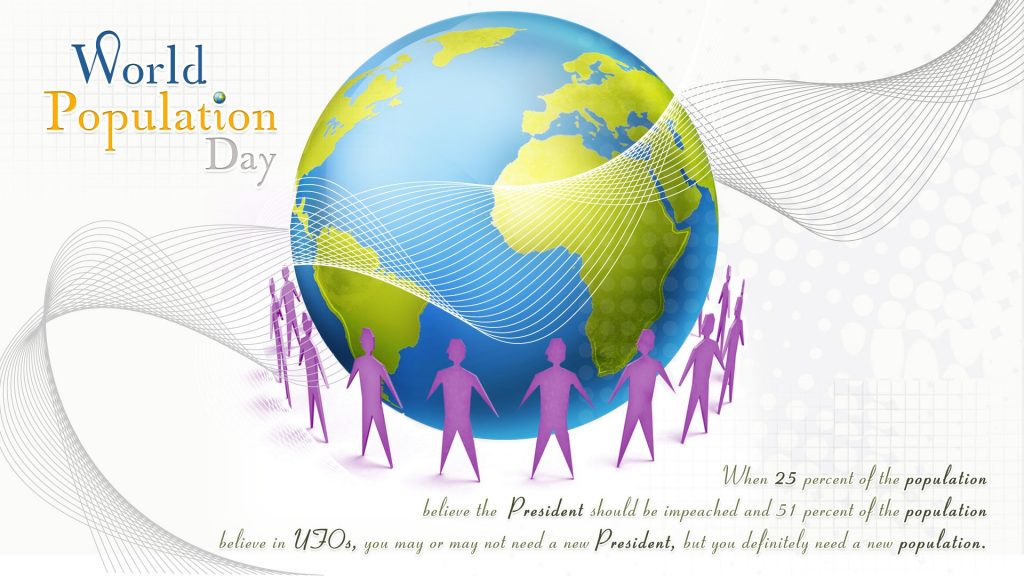 Questions :
World Population Day Essay
World Population Day Article
World Population Day Speech
Quotes on World Population Day
World Population Day Slogans
Images of World Population Day
World Population Day Posters
World Population Day Sayings