Best Apps for Newcomers to Canada: With the development in technology and AI, we know it has been easy for everyone to operate anything through the Phone or any device. And it is quite helpful for all of us if we know the list of apps that is going to make our life easier than before.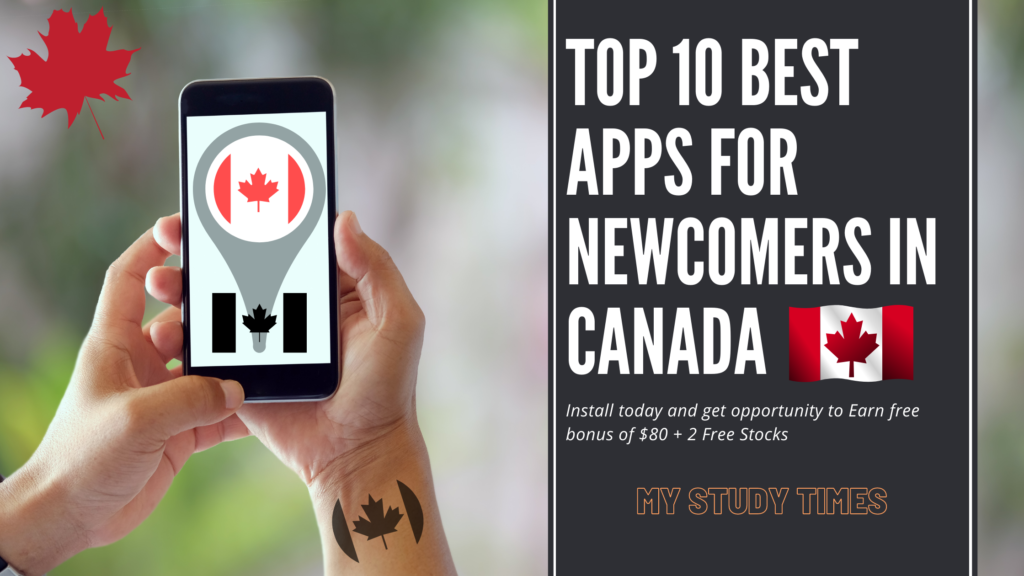 Every year thousands of immigrants are moving to Canada for better life or better opportunities. Once they land in Canada there are many hurdles they have to face. I am also an Immigrant who landed in Canada in 2017 as a student. On very first day I was not aware about these apps but today I am going to make you aware of best apps for newcomers to Canada for your ease, smooth landing & settlement experience and to earn free bonus of $80 in Canada.
As you know, it is not easy to start a life in a new country, it needs proper plan and a mind map about how you are going to spend your life. Therefore, we have mentioned The Best Apps for newcomers in Canada.
These apps save you from your daily life hurdles and decrease your overload somehow. Moreover, they save your time and money as well.
Top 10 Best Apps for Newcomers to Canada
#1 Rakuten
Rakuten is one of the life saver apps for newcomers to Canada. As the weather changes frequently and you might not be sure how many sweaters you are going to need or which kind of clothing you need.

As a newcomer to Canada, you will get to know that money is the sole factor when it comes about buying anything.

And you can't spend high amount of money without any knowledge. Therefore, Rakuten is an app that provides you lot of features in a single app and it's very easy for you to blow a significant amount of money in a limited time.

Rakuten offers coupons, savings and cash back rewards as well.

You can shop from any of your favourite store and get 30% Cashback. It provides weekly gift cards as well with cyber week hot deals and coupons.
#2 Wealth Simple Apps
Wealth simple is well known for its friendly and navigable website and it allows you to trade and invest as well. If you are newcomer to Canada then Wealth simple apps are the best apps for newcomers in Canada very helpful for you because it doesn't charge any commission fees for buying or selling tocks and ETFs.
i) Wealthsimple Cash
Wealthsimple Cash App is Canada's first P2P payment app, which recently released a physical card with no annual fees. Thus, the Wealthsimple Cash card is one of the best prepaid credit cards in Canada.
You can send money to your peer directly through the app also You can claim Wealthsimple Prepaid VISA card for free which is accepted everywhere.
My Study Times Readers Special: Get $10-$25 Free Bonus When You Sign Up Now [NO CREDIT CHECK REQUIRED]
ii) Wealthsimple Trade
There are no minimum amount criteria fixed to create a Wealth simple Trade account. They are offering $50 cash bonus to new account holders if you deposit $150 and trade it.
Through this Trade: can trade stocks and ETFs with $0 commission.
You should install this app and it's a win win moment for you because it offers you free Canadian trades and comes with no fee structure which makes it easy for the newcomers to trade with less capital as a first experience.
My Study Times Readers Special: Get $50 Free Bonus OR Two Free Stock to Trade When You Sign Up Now
iii) Wealthsimple Invest
You will get your personalized portfolio in just 5 minutes which is designed to meet your financial goals.
You can have a diversified portfolio through investing in social initiatives across the world.
You will love these apps as it has made the investing easier and the roundup feature is quite satisfying. You will discover various ways to increase your investments through wealth Simple apps.
#3 Google Maps:
Google map is one of the most essential apps for newcomers to Canada as you are in an unknown place or any place you aren't familiar with. As Google Maps acts as search engine to find what the users are searching for and also as a map to direct users to that location.
It provides you the detailed map and shows you the traffic as well and the route for your destination through any medium.
For example, if you are trying to find a particular restaurant or any restaurant, you just need to push on restaurant button on the app and it will provide you the list of all the restaurants nearby including how far they are from your current location.
You can also view the profiles of the listed restaurants and decide on what you like. The profile shows you the customer reviews as per their experiences which makes it easy for you to decide.
Google map comes with lot of useful features and you can get to know about it only when you install it. So, download it as it is available on apple Store and play store as well.
#4 Weather App
You must be thinking why weather app is included in the list. But let me tell you a story.
The week I arrived in Canada and It was sunny in the morning and I had a meeting to attend and I wasn't familiar with the route so I booked a cab and reached 1km before the destination. But when I was in the way it started raining and my outfit for the meeting got ruined.
So, the point here is if I would have used Google Maps and Weather apps before. I would have known about all this beforehand. But I didn't so you know the outcome. Therefore, you must download apps for newcomers to Canada for any unseen situation.
#5 ArriveCan:
ArriveCan app is recommended when you are going to visit Canada. You need to provide your travel information before and after your arrival to Canada.
ArriveCan is totally free and is the platform of official government of Canada where you need to provide your information while entering Canada.
All the travelers whether entering Canada by land, air or ship, they must use ArriveCan.
Your boarding may be denied if you don't submit your information. Otherwise, People who are Canadian citizens, permanent residents or any person registered under Indian act and is eligible to arrive Canada due to work, study will not be denied.
It makes it easier for you to navigate all these if you have the ArriveCan app and you don't need to face any hassle further.
You need to provide your travel information and contact details and your vaccination details, Quarantine plans and then you will receive a receipt on your email. You can check the official website to know more.
#6 Skip The Dishes:
When you are somewhere new, you need an online food platform as well thus Skip is the best apps for newcomers to Canada. You need to download the app through play store or apple Store. You can get access to various kind of restaurants and you can easily order any food anytime anywhere.
Skip the dishes provides you with local favorite dishes as well that doesn't normally deliver their food but you can order those foods through this app.
You can watch your order as well and track it through the app and it also shows you the remaining time left to deliver your order.
It's the best app when it comes about ordering food online as it offers you Skip rewards too, where you can earn points on every order and the points can be used to get the food you love easily.
The sign up is very easy, you just need to Click Here to create a Skip account and you are good to go.
My Study Times Readers Special: Get $5-$15 Free Bonus When You Sign Up Now 
#7 Borrowell
After all the hurdles, you must be thinking there must be an app that tracks your credit history and provide you the credit scores weekly. Then Don't worry, we have got you covered.
Borrowell provides you your Equifax credit Score and Credit report for free and you can download your credit report and scores anytime.
It provides you the credit scores weekly and helps you to track your credit scores as well.
If you are newcomers to Canada you must install Borrowell as it tracks your credit report and provides you personalized tips for improving your scores as well.
As the main purpose when you reach Canada is to get a valuable credit card and moreover you need to monitor your credit scores often so its highly recommended to install Borrowell.
Special Read: Read Our Detailed Review on Borrowell – Click Here
#8 Tangerine:
When you reach to Canada you will need Canadian Bank account and With tangerine you can do digital banking.
As we said, the main agenda while you reach Canada is to get a valuable credit card first and tangerine provides you the best credit card in Canada with loads of cashback rewards and offers.
You will get $300 and 2.25% savings rate when you sign up using the promo code EARNMORE and create a savings account.
Tangerine offers you the credit cards with no annual fee as well and different card carries different cashback offers.
You should install the Tangerine mobile banking app which makes your banking experience more convenient. You can manage your account through the app and review transactions and get the important updates easily.
The insurance coverage provided by Tangerine is also quite satisfying and it's a good option if you are a newcomer.
Readers Special:  Tangerine Money Back Credit Card Review – #1 Ranked Credit Card in Canada
#9 Remitly:
Remitly is one the Best Apps for Newcomers to Canada if you tend to transfer money overseas as it allows you to transfer money faster and comes with the security. You can get best deals and low charges when you are transferring money out of country.
Remitly is a trustworthy app and very safe. Thousands of people in Canada use Remitly for transferring money more than $6 billion a year.
It is also quite easy for you if you are an Indian and living in Canada due to work or study. Because you can transfer money to India as well. You just need to create an account and you will get a special exchange rate on the first $ 1000 and extra $15 discount when you transfer money more than $6000.
You can track the progress and you get the call from a member to verify the transaction is an additional security. Due to which, I would recommend Remitly.
My Study Times Readers Special: Get $15 Free Bonus When You Sign Up Now 
#10 Koho
Koho is one of the Best Apps for Newcomers to Canada. Koho is a free spending and Savings account for Canadians that comes with the prepaid card and mobile app as well.
You will get 0.5% cash back on every purchase and the mobile app makes it easier for you to navigate the balance and cash out.
The additional feature provided by Koho is that you can lock your card and securely shop anytime that's why it is trusted by 375,000 Canadians.
It's not like any other credit card. Koho allows you a smart budgeting app through which you can monitor your account and get daily insights on improving after every purchase.
It's quite simple to use, and there are various kind of built-in ways to make the most of your money.
You can choose to round up your purchases to the nearest buck or two and then that money will be stashed away from you, which is called Roundups. It adds up the amount quickly and you can cash out anytime you like.
My Study Times Readers Special: Get $20 Free Bonus When You Sign Up Now